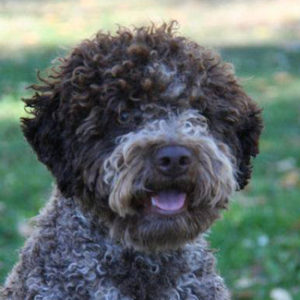 Nu hoppas vi att vi väntar smått igen!
Vi ser fram emot hösten och förhoppningsvis Ztellas (T. Buona Regina) första kull. Ztella är en liten tik med goda proportioner, en lugn och trevlig tik. Hon är skottfast och hade inga kvarstående rädslor på sitt BPH. Hon har A-höfter, ED 0, ögon UA och är fritestad för SD och JE, hon har aldrig varit sjuk eller skadad under sitt liv. Så nu hoppas vi att hon är dräktig och att hon blir en bra mamma.
Hanen vi valt att para Ztella med heter Spino della Cascinetta, kallas till vardags för Spino. Han är en italiensk import född 2012. Han är en mycket välbyggd hane i perfekt storlek. Han har ett rejält och vackert huvud, han är framåt och gladlynt med stort självförtroende. Då behöver man inte försöka hävda sig utan får ett sådant där lugnt och tryggt beteende. Som ni märker på vår beskrivning så skulle vi helst att tagit med oss Spino hem, det var kärlek vid första ögonkastet inte bara från vår sida utan från hundarnas också.
Nu återstår bara att vänta och hålla tummarna. Om du är intresserad av en valp ur denna kombination är du välkommen att höra av dig till oss!
Medan vi väntar så gläds vi åt att få nya bilder på Uno (T. Double or Nothing), han har nu blivit 5,5 månad och han utvecklas på alla sätt precis som vi önskat. Vi tror och hoppas på en ljus framtid för den fina killen!
Se mer om den kommande kullen under Valpar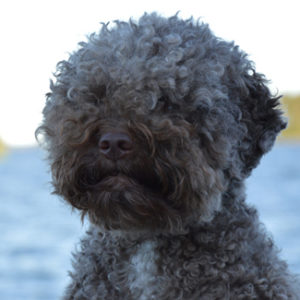 We are hoping for little ones!
We look forward to fall and hopefully Ztella's (T. Buona Regina) first litter. Ztella is a small bitch with good proportions, a calm and nice bitch. She is not afraid of shots and had no lingering fears on her mental description. She has A-hips, ED 0, eyes clear and is SD and JE free, she has never been sick or injured in her life. Now we hope she is pregnant and that she will be a good mother.
The male we have chosen is named Spino della Cascinetta, he is called Spino. He is an Italian import that was born 2012. He is a very well built male in perfect size. He has a very good and beautiful head, he is very sociable and happy. He has that calm and confident behavior that you get when you don't need try and assert oneself. As you can tell from our description we would have liked to bring Spino home with us, it was love at first sight and not just from us but between the dogs as well.
.
Now all that is left is to wait and keep our fingers crossed. If you are interested in a puppy from this combination you are welcome to contact us!
While we wait we are very happy that we get new pictures of Uno (T. Double or Nothing), he is now 5,5 months old and he is developing as we have wished in all ways possible. We believe and hope that he has a bright future ahead of him this lovely boy!
See more about the upcoming litter under Valpar