DK Ch NO Ch FI Ch SE Ch SE VCh TufflaZ Buon Baciatore "Caztor"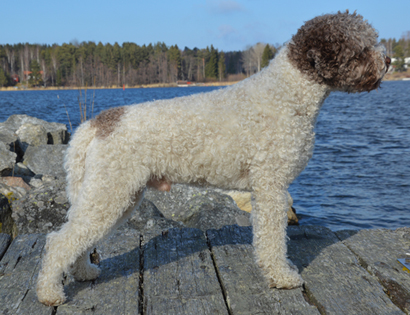 Född:
2015-04-30
HD: B
ED: UA (0)
Patella: UA (0/0)
Ögon: UA 2020-04-22
BFJE: Fri (N/N)
LSD (storage disease): Fri (N/N)
Korthår (furnishing): Normal (F/F)
Mankhöjd: 48 cm
Tänder: Saxbett (fulltandad)
Meriter: CACIB
Dansk utställningschampion (DK Ch)
Norsk utställningschampion (NO Ch)
Finsk utställningschampion (FI CH)
Svensk utställningschampion (SE CH)
Svensk viltspårschampion (SE VCH)
Genomfört BPH (skottfast)
Ägare: Kennel TufflaZ
Se mer om Caztor på SKKs avelsdata
.



.
Caztor är född som nummer två i vår B-kull (Good-kullen). Caztors stamtavlenamn betyder Good Kisser, och det kan vi intyga att han är.
Han stannade med oss i kenneln trots att vi enbart skulle spara en tik ur kullen. Men då vi såg stor potential i honom trots avsaknad av en del nospigment och ett överbett så blev han kvar i förhoppningen att detta skulle växa bort. Det gjorde det ganska snart och vi kunde inte vara mer nöjda att denna underbara kille är kvar som en del i vår flock.
Han är inte bara välformad på utsidan, han har också ett hjärta av guld.
Han har visat framfötterna en del i utställningsringarna och trivs mycket bra i strålkastarens sken, men ni hittar honom lika gärna i spårskogen med nosen hårt arbetandes.
.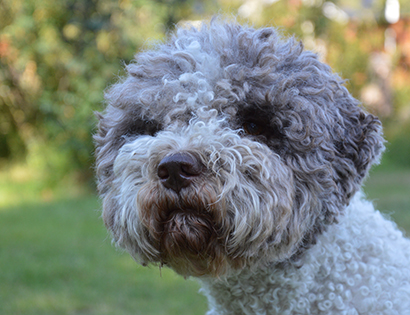 Born:
2015-04-30
HD: B
ED: 0
Patella: 0/0
Eyes: Clear 2020-04-22
BFJE: Free (N/N)
LSD (storage disease): Free (N/N)
Furnishing: Normal (F/F)
Height: 48 cm
Teeth: Complete scissor bite
Merits: CACIB
Danish show champion (DK Ch)
Norwegian show champion (NO Ch)
Finnish show champion (FI CH)
Swedish show champion (SE CH)
Swedish blood tracking champion (SE VCH)
Mental description (not afraid of shots)
Owner: Kennel TufflaZ
See more about Caztor on SKKs avelsdata
.



.
Caztor is from our B-litter (the good litter), his pedigree name means good kisser and we can testify to that surely he lives up to his name.
We hadn't planned on keeping him with us because we were only going to keep a bitch from the litter. But he couldn't be denied. But as a small pup he was missing some nose pigment and he didn't have a perfect bite so we couldn't sell him for show. But as we thought he should be shown we kept him with the hope that he would mature in the right direction. The bite and pigment changed quickly and we couldn't be more happy and pleased that we have this wounderful male as a part of our pack.
He isn't just well shaped on the outside, he has a heart of gold.
He has shown very nicely his first two years and became swedish show champion at the first chance he got after his second birthday. He really likes to be in the spotlight but you are just as likely to find him in the forest hard working on a blood track.
◊◊◊◊◊◊◊◊◊◊◊◊◊◊◊◊◊◊◊◊◊◊◊◊◊◊◊◊◊◊◊◊◊◊◊◊◊◊◊◊◊◊◊◊◊◊◊◊
◊◊◊◊◊◊◊◊◊◊◊◊◊◊◊◊◊◊◊◊◊◊◊◊◊◊◊◊◊◊◊◊◊◊◊◊◊◊◊◊◊◊◊◊◊◊◊◊
◊◊◊◊◊◊◊◊◊◊◊◊◊◊◊◊◊◊◊◊◊◊◊◊◊◊◊◊◊◊◊◊◊◊◊◊◊◊◊◊◊◊◊◊◊◊◊◊
◊◊◊◊◊◊◊◊◊◊◊◊◊◊◊◊◊◊◊◊◊◊◊◊◊◊◊◊◊◊◊◊◊◊◊◊◊◊◊◊◊◊◊◊◊◊◊◊
◊◊◊◊◊◊◊◊◊◊◊◊◊◊◊◊◊◊◊◊◊◊◊◊◊◊◊◊◊◊◊◊◊◊◊◊◊◊◊◊◊◊◊◊◊◊◊◊
◊◊◊◊◊◊◊◊◊◊◊◊◊◊◊◊◊◊◊◊◊◊◊◊◊◊◊◊◊◊◊◊◊◊◊◊◊◊◊◊◊◊◊◊◊◊◊◊
◊◊◊◊◊◊◊◊◊◊◊◊◊◊◊◊◊◊◊◊◊◊◊◊◊◊◊◊◊◊◊◊◊◊◊◊◊◊◊◊◊◊◊◊◊◊◊◊
◊◊◊◊◊◊◊◊◊◊◊◊◊◊◊◊◊◊◊◊◊◊◊◊◊◊◊◊◊◊◊◊◊◊◊◊◊◊◊◊◊◊◊◊◊◊◊◊
◊◊◊◊◊◊◊◊◊◊◊◊◊◊◊◊◊◊◊◊◊◊◊◊◊◊◊◊◊◊◊◊◊◊◊◊◊◊◊◊◊◊◊◊◊◊◊◊
◊◊◊◊◊◊◊◊◊◊◊◊◊◊◊◊◊◊◊◊◊◊◊◊◊◊◊◊◊◊◊◊◊◊◊◊◊◊◊◊◊◊◊◊◊◊◊◊
◊◊◊◊◊◊◊◊◊◊◊◊◊◊◊◊◊◊◊◊◊◊◊◊◊◊◊◊◊◊◊◊◊◊◊◊◊◊◊◊◊◊◊◊◊◊◊◊