Crazy Daisy
TufflaZ Crazy Daisy "Zäta"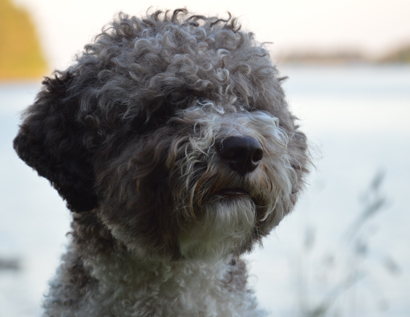 Född:
2016-10-24
HD: A
ED: UA (0)
Ögon: UA 2019-04-04
BFJE: Hereditärt fri
LSD (storage disease): Hereditärt fri
Mankhöjd: 43 cm
Meriter: BIR – CACIB
CERT (FI & NO & DK)
BIM på Norsk Lagotto Special 2018
Genomfört BPH (skottfast)
Ägare: kennel TufflaZ
Avliden: 2020-08-03
.
Zäta är andra generationen TufflaZ, hon är förstfödd i vår C-kull "blomkullen".
Vi skulle inte behålla någon valp i denna kull, men ibland så är det en valp som talar till en. Någon man inte kan ignorera och där var hon lilla Crazy Daisy aka Zäta.
Zäta är glad och trygg tjej. Hon hälsar glatt på både folk och hundar. Vi är nöjda att hon visade sina goda sidor på sin mentalbeskrivning i juni 2018, inga kvarvarande rädslor, social, trygg och skottfast. Hon är mycket lik sin mamma Roza i sin mentalitet, vilket naturligtvis är den stora anledningen till att vi som uppfödare har ett stort ansvar när vi väljer avelsdjur, mentalitet har en stor arvbarhet.
Vi är också glada att Zäta inlett 2018 med att visa framfötterna i utställningsringarna. Hon har tagit tre CERT och varit BIM tre gånger på rad, varav den ena gången var på Norska Lagotto Klubbens Specialutställning. Hon var även klassvinnare på den Finska Lagotto Klubbens Specialutställning. Så vad mer kan man önska – beauty and brains!
Zäta var en helt underbar hund på alla sätt, men livet är ofta orättvist och det var det verkligen i Zätas fall. I april 2020 opererades hon för en patellaluxation som hon aldrig haft symtom av under sina första 3 år i livet. Tyvärr så fick vi aldrig tillbaka vår underbara tjej fullt ut efter operationen och i augusti 2020 fick vi säga adjö. Må vi mötas igen.
Born: 2016-10-24
HD: A
ED: 0
Eyes: Clear 2019-04-04
BFJE: Hereditary free
LSD (storage disease): Hereditary free
Height: 43 cm
Merits: BOB – CACIB
CAC (FI & NO & DK)
BOS at Norwegian Lagotto Club Speciality 2018
Mental description (not afraid of shots)
Owner: kennel TufflaZ
Deceased: 2020-08-03
.
Zäta is the second generation of TufflaZ, she is the first born in our C-litter (the flower litter).
We weren't going to keep any of the puppies but she spoke to us and we couldn't ignore her. So she stayed with us and the Crazy Daisy aka Zäta.
Zäta is a happy and confident girl. She greets both people and dogs happily. We are pleased that she chose to show her good sides at her mental description in June 2018, no lingering fears, sociable, confident and not afraid of shots. She has a very similar mentality to her mother Roza, this is of course the huge reason why we as breeders have a big responsibility when we chose which dogs to mate, mentality is very hereditary.
We are also very happy that Zäta has started 2018 by showing off in the show rings. She has taken three CACs and been BOS three times in a row, one of which was at the Norwegian Lagotto Clubs Speciality Show. She was also class winner at the Finnish Lagotto Clubs Speciality Show. So what more could we wish for – beauty and brains!
Zätas was a wonderful dog in every way, but life is often unfair and was certainly so in Zäta's case. In April 2020 she had surgery for patellar luxation that she had no symtoms for during her first three years in life. Unfortunately we never got our wonderful girl back fully after the surgery and in August 2020 we had to say goodbye. May we meet again.

.
◊◊◊◊◊◊◊◊◊◊◊◊◊◊◊◊◊◊◊◊◊◊◊◊◊◊◊◊◊◊◊◊◊◊◊◊◊◊◊◊◊◊◊◊◊◊◊◊
◊◊◊◊◊◊◊◊◊◊◊◊◊◊◊◊◊◊◊◊◊◊◊◊◊◊◊◊◊◊◊◊◊◊◊◊◊◊◊◊◊◊◊◊◊◊◊◊
◊◊◊◊◊◊◊◊◊◊◊◊◊◊◊◊◊◊◊◊◊◊◊◊◊◊◊◊◊◊◊◊◊◊◊◊◊◊◊◊◊◊◊◊◊◊◊◊
◊◊◊◊◊◊◊◊◊◊◊◊◊◊◊◊◊◊◊◊◊◊◊◊◊◊◊◊◊◊◊◊◊◊◊◊◊◊◊◊◊◊◊◊◊◊◊◊